I should accent that Finns take a holidays in their own country pretty often. They consider their nature as the most beautiful in this corner of the galaxy (what is almost right).
That kind of powerful beautiful north deer we have met on the road. Also take a look at the quality of the pointing and road-cover of the Finnish suburb.
We were drove near the hydro-node on the river with that kind of the waterfall. As Finland is standing in the zone of Gulfstream activity there is no problem with precipitates. The rivers , streams and waterfalls are widespread in here.
Our crew is at the roadside of the gravel route in the forest. In day we were usually made up 450 to 700 kilometers depending on the difficulty of the path and state of the road.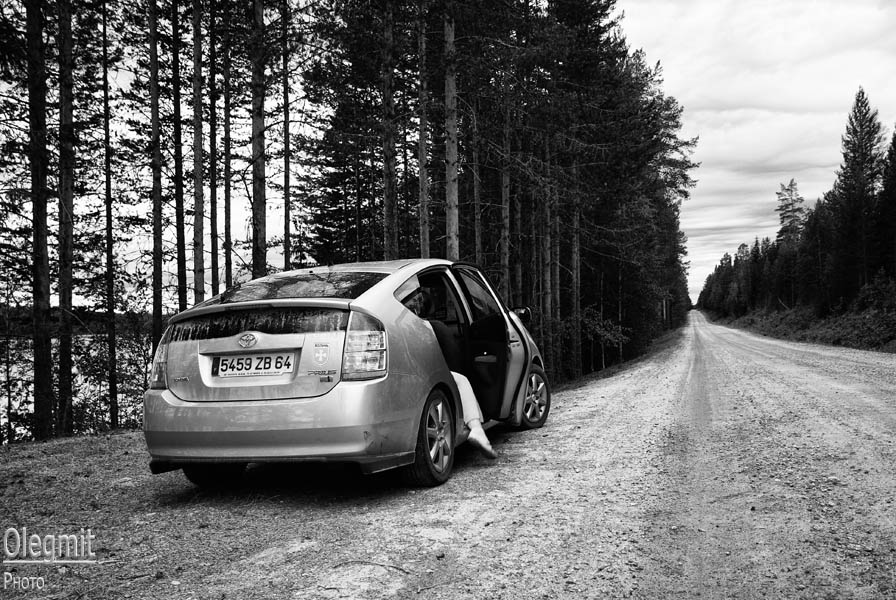 Gravel roadWe have seen this woman in the mosquito suit, who is walking with her dog. Dog didn 't wear such cloth. There is a bad situation with mosquitoes in Finland. There are a lot of them when temperature is rise up 20 degrees. Like today.
Sometimes we are moving like column with clouds of dust, but usually we are choosing places for shots and relax by ourselves.
On the timeout in Finnish camping I have made this photo, which have conquered hearts of the judges on the First Grand Jury in Kuusamo. It is easy to make such photos in the Finland at the summertime. In that day the sunset was four hours long! We are close to the polar circle!
We have met the young couple in the reserve. They are the tourists from Prague.
They were also very kind to posing for our shots .
As it comes, we realize that knowing of a little English will help you to interact with locals. We are correcting the path with the local (second on the left). He has revealed himself as the Helsinki liver and the owner of the outskirt house in this region. Together we have describe the last number of the capital newspaper. It's a shame that material about the raid shows up only on the next day.
Table of Contents: Raid Paris – North Cape 2010 Daily Reports